---
Kiowa County Commissioners
PO Box 100
Eads, CO 81036
Phone: 719.438.5810
---
Kiowa County Commissioners Named Parks Southeast Region Partner of the Year
---
---
Help Wanted
Kiowa County Road & Bridge has two full time job openings for Road & Bridge Equipment Operator.
Applicant must have a CDL or be able to obtain one.
Heavy Equipment experience preferred but not required.
Great Benefits!
Application and job description can be picked up at the Kiowa County Commissioner's Office or can be printed from our website
www.colorado.gov/kiowacounty
under the Jobs tab.
Applications must be returned to the
Kiowa County Commissioner's Office,
Eads Courthouse,
1305 Goff Street,
PO Box 100,
Eads, Colorado 81036,
(719) 438-5810.
Position will remain open until it is filled.
We reserve the right to reject any & all applications.
EOE
---
---
---
---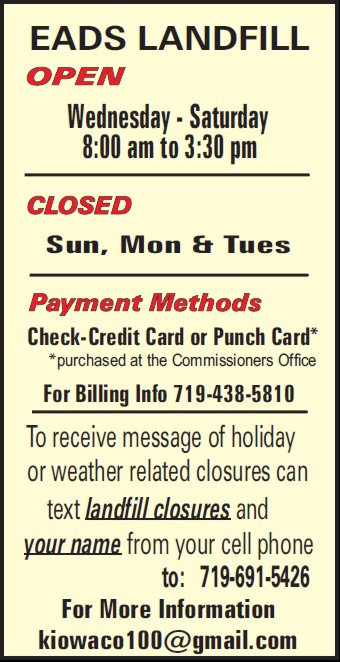 ---
---

---
---
---
&
---
KIOWA COUNTY RESIDENTS
BEFORE CONDUCTING ANY CONTROLLED BURNS YOU MUST APPLY FOR A BURN PERMIT AT THE KIOWA COUNTY COMMISSIONERS OFFICE. FOR MORE INFORMATION CALL 719-438-5810.
ONCE A PERMIT IS ACQUIRED AND PRIOR TO EACH PERMITTED BURN YOU MUST NOTIFY THE KIOWA COUNTY SHERIFF'S OFFICE AT 719-438-5411.
BURNING OF UNTREATED, NATURAL WOOD, LEAVES, DRY PRAIRIE GRASS/WEEDS IS ALLOWED. NO OTHER WASTE ITEMS MAY BE BURNED.
IF A FIRE STARTED ON YOUR PROPERTY GETS OUT OF CONTROL YOU ARE LIABLE FOR DAMAGE TO OTHER PROPERTY.
---
Welcome to the Kiowa County Commissioners page
Kiowa County Commissioners
Kiowa County Courthouse
1305 Goff Street
PO Box 100
Eads, CO 81036
Phone: 719-438-5810/5818
FAX: 719-438-5615
E-mail: Kiowaco100@gmail.com
KiowaCounty-Colorado.com now has a Facebook page
The Commissioners have decided to discontinue the virtual meetings. Since the COVID precautions are lifted and we are able to meet in person we will only be offering virtual attendance by those who have a discussion item scheduled with the BOCC and are not able to attend in person. I know that this is not always convenient but we have found that on occasion those attending virtually catch only a part of a conversation and this may be the cause of misinformation to spread and that is not likely to happen when attendance is in person. We are trying to eliminate some additional COVID responsibilities from my schedule and the amount of additional work to set up each meeting and deal with technical issues is a time consuming process. We also need to log attendance and that is more difficult with virtual attendance and the BOCC like to know who they are addressing. We appreciate your interest in these meetings and want everyone to know that they are more than welcome to attend in person.

Thank you,

Tina Adamson

Administrator
Upcoming Meetings:

October 4 Community Corrections Meeting October 5 GPR Meeting October 6 Fair Board Mtg October 13 RESADA / SCEDD October 14 Commissioner Meeting October 19 KCEDF October 20 SAGE/SEBREA October 27 SECED October 28 Commissioner Meeting
Commissioners will recess

12 - 1 for lunch

4 day notice is preferred for posted agenda

E-mail: Kiowaco100@gmail.com

Upcoming Meetings:

September 30

October 14

Howard "Butch" Robertson Oath of Office 2019

Donald Oswald Oath of Office 2021

Michael Lening Oath of Office 2021
Home | Up | About Kiowa County | Departments | Employment | Kiowa County Yellow Pages | Business | Photo Gallery | Kiowa County Links
---

---
Acceptable Waste List for Landfills
---
Planning & Zoning Regulation & Permits
---
---
---
Vouchers 2021
---
Previous years
---
---
ORDINANCE
---
Resolution Licensing & inspection Ambulance Service
---
---
---
---
---
---
---
---